« All Pro Tips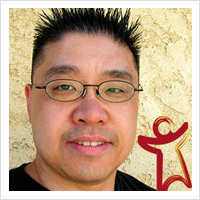 How to Brand Yourself with a Twitter Background
Posted in:
Twitter is probably one of the biggest social media websites out there. Twitter offers a great opportunity for people looking to market their goods and services, leads on new clients or landing that next big job.
By sharing, connecting, engaging and retweeting, that opportunity becomes even greater. Over time, you gain trust and credibility: resulting in being an expert in your field. It's a good way to build your brand.
When marketing yourself, you want all pieces to look similar and cohesive: logo, business cards, letterhead, envelope, website, brochure, media kit, marketing materials, signage, etc.
Twitter profile backgrounds are another tool to help market and promote your self. The background should match your existing brand or look. Twitter backgrounds get noticed: if they're unique, fresh and stand out from the crowd.
I know everyone is not a professional designer. Here are a few tips to help you get started with your own Twitter background. This is what has worked for me.

What size should the Twitter background be?
It really depends on the size of the screen; the target audience is viewing your Twitter background on and the type of design. Some backgrounds will not look great on both smaller and larger screens. Sometimes you must compromise.
A safe number is 1500 pixels x 1300 pixels, which works both on a 1024 pixels x 768 pixels and a 1280 pixels x 800 pixels or larger screen. Looks good even on larger monitors, 20," since most people will not open to the full length.
The spacing from the top header bar is 83 pixels. When placing information on the left side of the background, it should be within 115 pixels to 250 pixels from the left edge, and 500 pixels to 700 pixels down from the top, or any information you may have on the left side will get cut off from the bottom. This is especially true for smaller laptop/macbook
I don't recommend any information on the right side of the side bar. Since the center tweet area is a centered design. Most times, it will be covered up as you resize the window larger.
Designs in three flavors
There are three types of Twitter backgrounds you can design that come in the form: full screen image, combination of a smaller graphic with a solid background color or a pattern.
Full screen images are one of the most commonly used. It looks great and fills the entire screen. The cons of using a full screen image, is the time it takes to load. It may take longer on a slower Internet connection.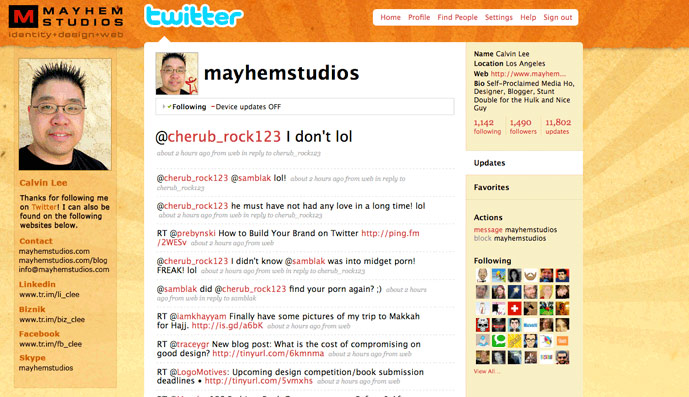 Combination of a smaller graphic/image with a solid background color is a good compromise, as the graphic fades/blends into the background color. It loads much faster because of the smaller graphic/image.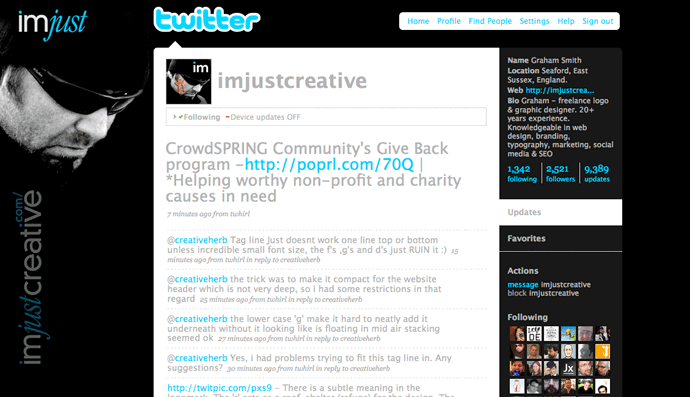 A repeating pattern is the quickest to load, out of the three. It's based off one very small graphic/image but also limiting, as you can't add graphics separate from the pattern.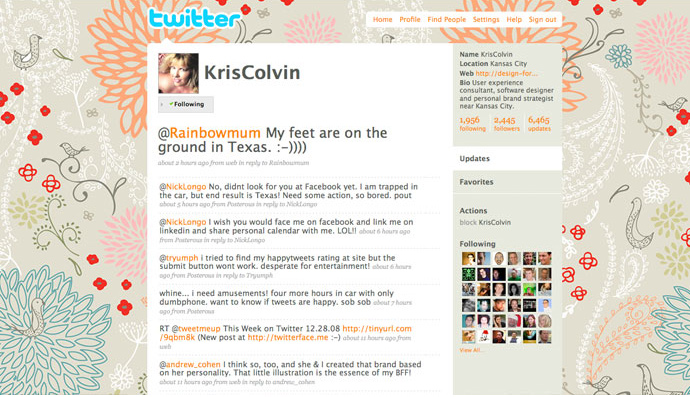 Tile or not to tile
Should you title the background or not gets asked often. The answer again, depends on your design. If the design has graphics/image that take up the full screen, the answer is no, don't tile it. The repeating tile looks awful on larger screens, but there should be a background color that matches your design. If the background only has a repeating pattern, definitely use the tile option.
Contrast and readability
Your Twitter background should to be attractive, clean and unobtrusive. Keep away from making the background too busy. You don't want people to be distracted by the background when reading your profile, updates or favorites. There should also be a good contrast between the background and fore ground of the tweet content area for easy readability.
About the Author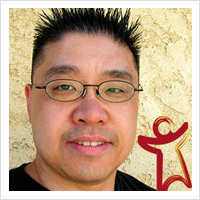 Calvin Lee, Principal & Creative Director of Mayhem Studios – a small award-winning design firm located in Los Angeles, California, developing identity and brand recognition for the business sector across the nation – is a graduate of Platt College and serves as a member of the Platt College Advisory Board for the Visual Communications Department, NO!SPEC Committee and on the Creative Latitude Management Team.